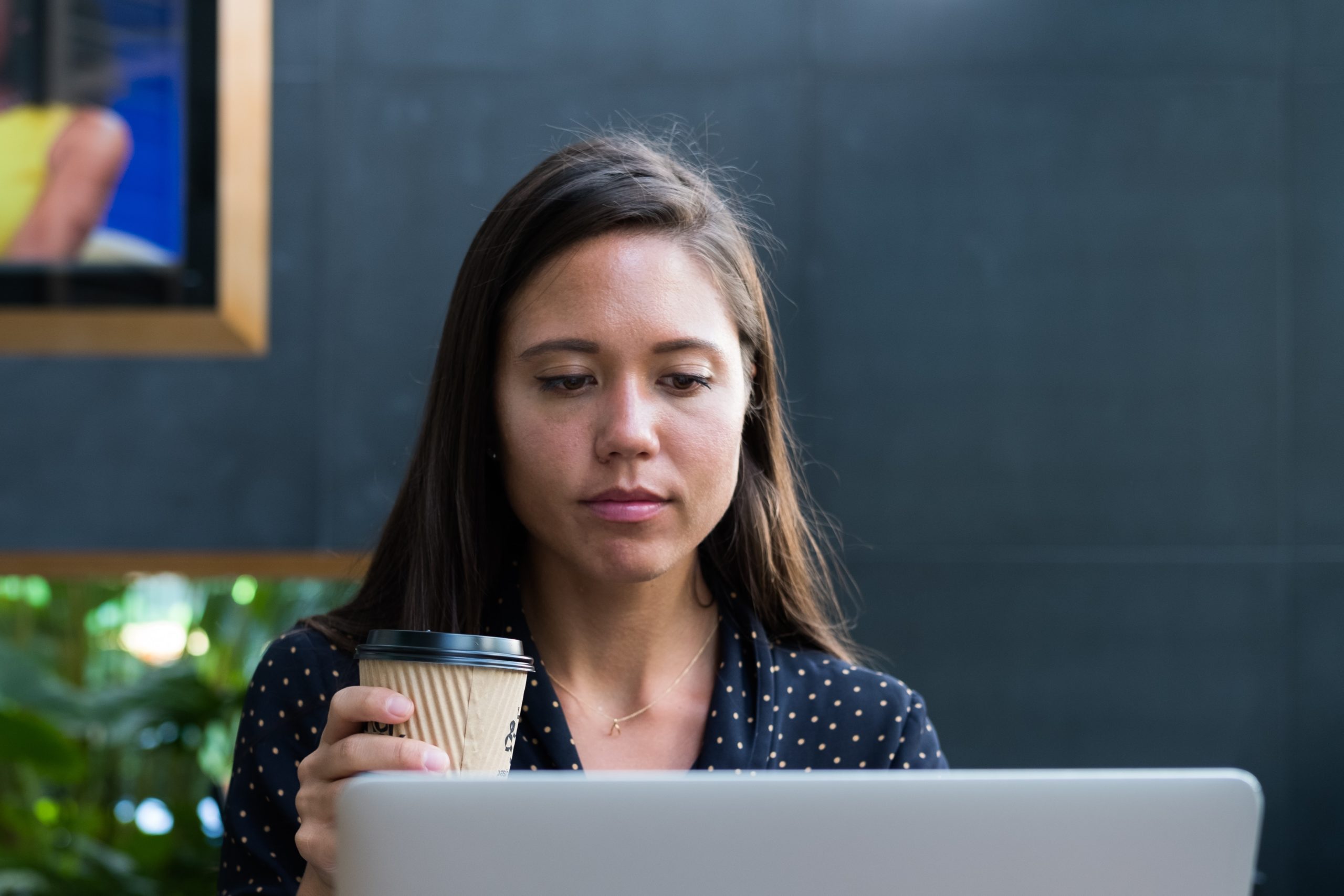 LinkedIn is flooded with webinars. Since May 2020, you cannot scroll the newsfeed for more than 2 minutes without reading the word webinar. When the COVID-19 pandemic hit, B2B marketers turned to webinars as a channel to engage with the audiences they used to attract in real-live events. As a result, 49% of businesses organize between 20-30 virtual events per year(1). The B2B webinar platform ON24 reported a 167% increase in webinars from April 2019 to April 2020. That is equivalent to a webinar taking place once per minute on the ON24 Platform. In 2020, people were watching three times more webinars than in 2019(2)
Are webinars a trend deemed to vanish? The short answer is no. Are they here to stay? Yes, but we will see changes. Despite webinars' success, Gartner's research shows that 30% of consumers are already exhausted by the extent to which their lives have moved online(3). Consumers will most likely get tired of purely online events. Jennifer Polk, VP Analyst, Gartner, at the virtual Gartner Marketing Symposium/Xpo® 2020, said that "Sustaining customer engagement in a virtual world will depend on rich, immersive content delivery that infuses online events with an element of real life,". It seems that consumers expect B2B companies to host online events, but not only.
While the challenge for 2020 was enabling webinars and integrating it into the marketing strategy — B2B marketers were learning how to use the technology: background effects, host settings, presentations, feedback, email sequences. For 2021, the challenge is about optimizing webinars and getting attendees to interact during the webinar. Indeed, 55% of virtual event organizers plan to invest more in virtual events in 2021(1)
Is it a must-have digital marketing channel? The B2B webinar platform ON24 and some other webinar service providers claim that webinars will remain a critical digital channel for companies and marketers(2). Should I include webinars in my B2B digital marketing strategy? Yes, you should, as long as you are willing to provide helpful and valuable information. 80% of people join virtual events for educational purposes, not listening to a sales pitch(1). Low-quality webinars can put at risk the efficiency of webinars as a digital marketing channel. For this reason, it is our duty as marketers to do not exhaust the channel and do our best to provide a satisfying and rewarding experience.
In this article, we collected the latest research and information to understand what a webinar is, how to create a successful webinar, to promote it, and measure its success.
What is a webinar?
A short definition of webinar
Let us start with the basics: what is a webinar? Although the word webinar's origin comes from a combination of the words "web" and "seminar", a webinar is not exclusively an online seminar. To put it simple, a webinar is any single live event hosted on the internet using telecommunications technology. It is usually hosted by an organization or company and broadcasted to a select group of individuals. Sometimes, it can be confused with virtual events or webcasts.
What is the difference between a webinar, a webcast, and a virtual event?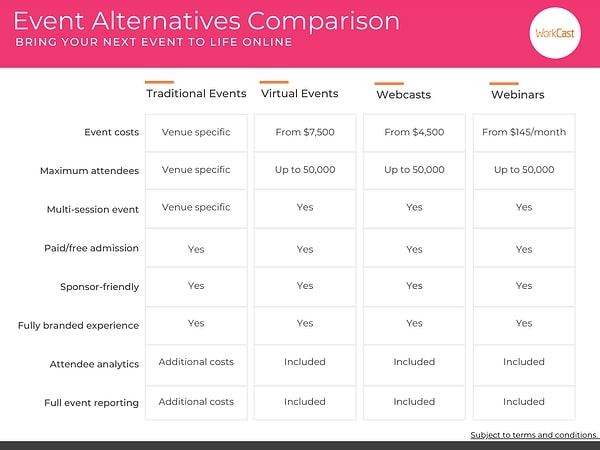 In a webcast, the information transmission is typically one-way only from the speaker to the audience. While a webinar works two-ways between speaker and audience, making webinars more engaging than webcasts.
Webcast technology is designed to broadcast to many participants; that's why it is usually more expensive than webinar solutions. It is commonly used to extend the reach of live events. For example, large events like Microsoft Ignite or TED happens are organized live and are webcasted.
And so, what is the difference between a webinar and a virtual event? A webinar is a single seminar, workshop, or presentation. At the same time, a virtual event is a multi-session online event that involves people interacting in a virtual environment. A virtual event's price is significantly higher than a webinar or a webcast due to the multi-session and interactivity components(4). It can have live and pre-recorded sessions and is usually mixed with online networking sessions.
Now that we know the difference between these three, let's dive in on building a successful webinar.
How to build a webinar
Define your topic and target
Choosing the right topic and target audience is very important for a successful webinar. This was already the case before, but it is even more critical since covid-19 appeared. The question to answer is: what do you want to talk about and to whom? You can start from your product lines or your target typology, such as company size or industry. Then, based on your areas of expertise, identify how you can help customers, answer their questions or pain points. More generally, how can you bring them value?
Another point to take into account is your business strategy and priorities. Are there any new activities that you want to develop? Are there any topics you may want to position on, for example related to sustainable development?
Think of your conversion funnel
Webinars are now an important part of your marketing mix. So you need to integrate them into your conversion funnel. According to Pierre-Henri Tataranno(5), CEO of Webikeo (a french webinar platform), there are two types of webinars, depending on their objective. On the one hand, webinars whose objective is to develop awareness for your company and its products. On the other hand, webinars whose objective is lead generation. Choosing the right category for your webinar is very important. It will help you to make the right choices regarding the environment of your event, its format, content and speakers.
Choose your approach
Once you have defined your topic, your target, and your objective, you can then define your approach. Below are key points to consider:
Do you want to host your webinar or participate in an external event? There are many elements that can motivate your choice. For example, if you are a young or small company, participating in an external event can be an excellent way to reach a larger audience and to develop your notoriety.
What will be your format? For an objective of awareness, think about panel discussion, interview, single-speaker presentation, Q&A. For lead generation, consider product demos and case studies(6).
Who will be your speakers? You can choose in-house experts, customers, partners, etc. And of course involve all these people.
When will your event take place? According to ON24 Webinar Benchmarks Report: COVID-19 Special Edition(7), the best time for a webinar depends on the audience, but it usually works well at lunchtime or early afternoon.
Make your events more interactive
Although webinars are a good alternative to physical events, their main limitation remains the lack of interactivity. Fortunately, there are many ways to make your webinar more interactive and engaging in this time of covid-19. The ON24 Webinar Benchmarks Report: COVID-19 Special Edition(7), based on the analysis of 10,076 webinars conducted in April 2020, gives ideas about what types of interaction you can offer. Thus, in April 2020, the analyzed webinars used Q&A (90% of them vs 81% in 2019), resource lists (69%), surveys (38%), social widgets (21%), polling (18.8%), call to action (15% vs 6% in 2019) and contact us widget (13%).
How to promote your webinars
Where to promote your webinars
When you think about how to promote your webinars, the first question to answer is: where? A 2020 study from Markletic gives us interesting insights about the most B2B used tactics to drive virtual event registrations(8). Without surprise, digital was already playing a key role as the top 3 tactics were website (80%), email (76%) and social media (60%). We will explore these tactics in more detail below.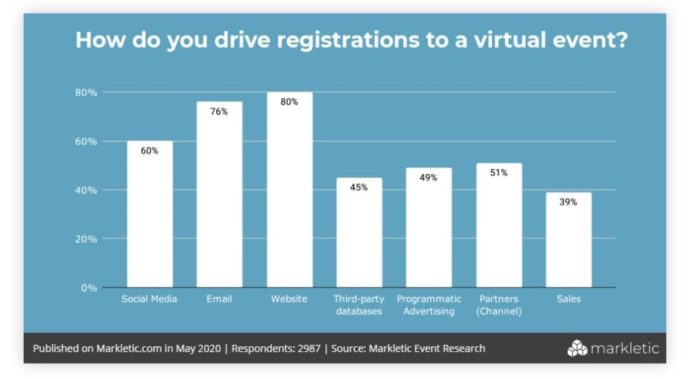 1- Websites
Above all, think about your showcase or e-commerce website. If your webinar can interest a large part of your visitors, a good idea can be to promote it on your homepage. For more specific topics, product or industry pages (or subdomains) can be better locations. To complete or as an alternative, you could create an events page to display all your upcoming events.
To go further, you can promote your webinars on your corporate blog. The easiest and most cost saving way is to add links and Calls To Action (CTAs) in your existing blog articles. So you can leverage on your content marketing and SEO efforts to drive awareness and registrations. If you have more resources (time, money), you can also create new content to announce your webinar or to address a topic related to your webinar theme.
Finally, you can build an event website, consisting of one or a few pages, to present your webinar. You can give your visitors an overview and details about the agenda, the different sessions, the speakers, etc. And also propose replay of past sessions. Creating an event website is an excellent way to drive registration.
2- Emailing
Emailing can be very useful to drive awareness. To begin with, what about adding an events section to your newsletters ?
In an interesting blog post(9), Michelle Deery, email copywriter and strategist, shares with us her "six-part email series to promote your webinar successfully". We will summarize in four steps these webinar specific emails:
The invitation email
The confirmation email
The reminder emails (Make several, to make sure your prospects don't miss out!)
The post event email
3- Social media
A third place where you can promote your webinars are social media. You can use Linkedin, Twitter and Facebook through organic social posts. Another way to promote your webinars on social media is by using their events features. Linkedin offers that functionality, but Facebook too.
4- Online ads
Social media are also excellent places to broadcast your ads. Indeed, social ads offer advanced targeting functions and a wide variety of formats. Depending on your target, small companies or big ones, you can choose between Facebook or Linkedin. Also think about display ads. Whether with programmatic advertising (as 49% of the B2B marketers) or negotiating with an advertising agency of a generalist or specialized media.
Don't do it alone : rely on your partners and collaborators
Break silos
As shown in the previous chart, 39% of B2B marketers use sales to drive registrations to virtual events. But how can the sales team do that? In their daily discussions with customers, of course. But not only that. On your side, you can suggest them to add a link to the upcoming webinar in their email signature. Or, to send to their most likely interested customers a specific email to inform them. It's time to break the silos !
But don't limit yourself. Think of all your colleagues, with employee advocacy. Many would be happy to help promote a webinar related to the products and services they work on every day. For instance, we know that 30% of the engagement for a Linkedin post comes from employees of the company(12). You can also motivate them with competition and prizes, using employee advocacy tools such as smarp, Dynamic Signal or Hootsuit Amplify (among others), that allows you to measure results.
Engage your partners
Don't forget to work with your partners, as 51% of B2B marketers already do by using partners channels. That can be with your webinar partners, by working on a co-promotional plan. But also with the speakers that you can mention with "@" in your social media publications. If possible, you can also consider to activate your other partners, such as your resellers.
Timing is key!
According to the CEO of Webikeo, who spoke at the B2B summit(5), promotion should start more or less 30 days before.
The number of registrations tends to increase as the date of the event gets closer. According to a GoToWebinar study(10), the last week even concentrates 59% of the registrations. You should therefore adapt your own promotional efforts to this curve.
Then, what about the best days and hours for promotion? Still according to GoToWebinar, Tuesday is the best day (21% of the registrations) when Friday is to avoid (13%) and Saturday and Sunday to forget (less than 5%). And the best hours are between 8am and 10am (36% of the registrations).
How to evaluate the success of your webinars
Goals, metrics, and KPIs
The best way to assess a webinar's success is by setting SMART goals, defining metrics and KPIs. All these will be conditioned by whether you want to generate awareness or nurture leads. The most common and basic metrics are:
The number of leads generated: how many people subscribed?
Quality of the leads: are we attracting our target?
Engagement during the webinar: are they asking questions, answering polls and surveys, and downloading the assets you prepared for your presentation?
Audience retention: how many people started watching, how many ended, when did they drop off?
Traffic to your website or social media after the webinar: do you have a spike of visitors right after a webinar? Increase number of tweets, mentions?
Feedback: are they filling your survey? What do they say?
For example, a smart goal for a webinar or a series of webinars could be "Activate 10% of dormant prospects who download a Human Resources System Information Guide in the last three months".
In this case, we should oversee metrics like the number of prospects attending the webinar, engagement during the webinar, and post-webinar interactions. A low number of prospects could be telling us that the topic/title/day/hour was not adequate. Low engagement during the webinar? Even though there is low engagement during the webinar, are prospects still contacting us in private? Maybe we have a shy audience. Low engagement rate during the webinar and after? Try other engagement methods. People are dropping off in the middle of the webinar. Are we boring them? Is our webinar too much sales-oriented? Too long?
Metrics tell us a story of how the attendees lived the experience. Do not get obsessed with tracking everything, just what matters to your goals.
KPIs in marketing tell us the status of specific objectives and goals. They do not tell the story of the user but how marketing is doing. In this case, a KPI could be % of dormant prospects activated via webinars and who interacted with us after the webinar.
If your metrics and KPIs show that something is not working, try to connect with your prospects before and after the webinar to collect feedback. You could be surprised about what they have to say.
Benchmark: how do I know if I am doing well
To have a clear idea of whether your webinars are being successful or not, you should also compare your results with your competitor and your market. You can address three information sources to find out:
Consult official reports to compare your results with your vertical benchmarks. Keep in mind that these reports are not always available or accessible.
Join a community of B2B Marketers like DGMG or LinkedIn groups and simply ask the question to fellow B2B marketers.
Compare your current data with your historical to see how you are doing. Are my KPIs improving? Is my number of attendees growing? How much does it cost for an attendee to become a client?
These data sources will help you see how your webinars are doing in your market—and reporting to upper management to support marketing investment/budget decisions.
Workcast reported that 94% of webinars are made available on-demand after the event runs life(11). On-demand webinars are useful for anybody who missed the live event to watch the webinar on their own time when it fits their schedule. In addition, they are also very useful for lead generation and to show off expertise. Learn more in our upcoming articles on webmarketing and content marketing.
References:
1 https://www.markletic.com/blog/virtual-event-statistics/#virtual-event-success
2 https://on24.drift.click/c053a93b-23d9-42c6-b0e9-e92d536977a9
3 https://www.gartner.com/en/marketing/insights/articles/three-key-gartner-marketing-predictions-2021
4https://info.workcast.com/event-alternative-solutions
5 https://live.btob-summit.com/#/event/S3OHvWB5wO4iARF0zAQJ/widget/5Vi0VEI6Cn2VYkEIw2Cg
6 https://blog.hubspot.com/marketing/are-webinars-dead-how-to-make-a-webina
7 https://www.on24.com/resources/asset/on24-webinar-benchmarks-report-special-edition-post-covid-trends/
8 https://www.markletic.com/blog/virtual-event-statistics/
9 https://www.business2community.com/email-marketing/webinar-emails-a-start-to-finish-promotion-process-02240004
10 https://lp.logmeininc.com/GTW_BigBookOfWebinarStats_LP.html?source=blog
11 https://info.workcast.com/blog/ultimate-webinar-stats-for-2020
12 https://business.linkedin.com/marketing-solutions/blog/linkedin-company-pages/2020/linkedin-pages-and-elevate–better-together