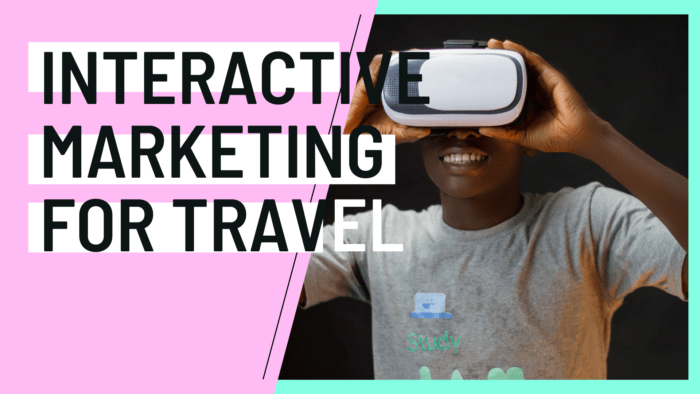 Interactive marketing allows consumers to virtually interact with engaging digital content from brands and businesses. Interactive content consists of: quizzes, dynamic navigation, interactive apps, assessments, calculators, storytelling, videos, infographics and emails.
To illustrate this in the travel industry, Marriott Hotels and Resorts a pioneer hospitality brand, experimented with virtual reality by combining 'technology with storytelling' to produce a series of virtual reality (VR) experiences for their guests on-location. Hotel guests were teleported to dream destinations while sitting in the comfort of their guestrooms.
''While wearing the headsets, guests choose from multiple "VR Postcard" options to experience 360-degree video footage and sounds from the Andes Mountains, the streets of Beijing, and even an ice cream shop in Rwanda.''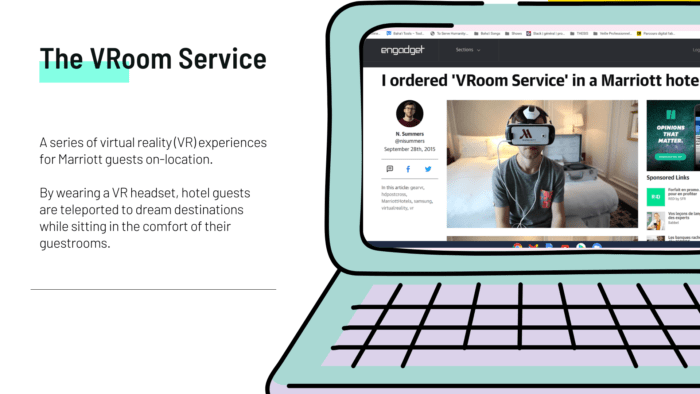 The bold shove of new technology into the Marriott marketing strategy generated fruitful results, increasing their customer's loyalty to the brand by 51% (51% of users of Marriott's VR rooms said they were much more likely to stay in Marriott Hotels in the future)
So, why does it work?
Due to the costliness of travel, the consumer decision-making journey is weighed down by a lengthy research process. To a certain extent, travellers want to ensure that they will visualize a destination and experience prior to the trip. Virtual reality offers a sample of a destination, an attraction, a service such as accommodation, and an experience or event.  This non-committed form of teleportation allows prospective consumers to 'try before they buy' in a way that is more tangible than with traditional media (tv advertisements or brochures).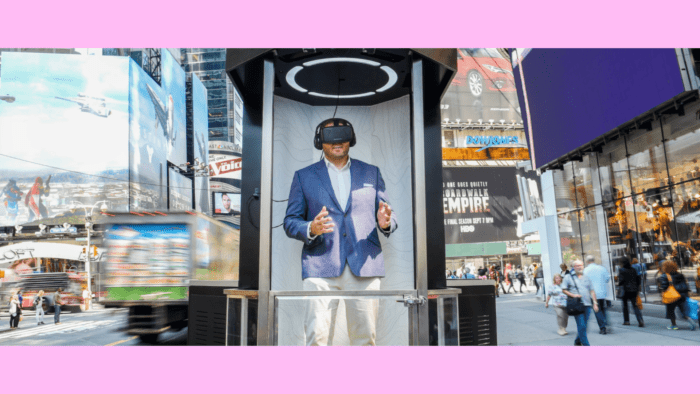 By setting up a booth in the middle of Time Squares, large audiences were immersed into a travel experience that teleported them to Hawaii, London UK and to a fancy Marriott hotel within minutes. A convincing sensorial experience for some users : ''feel like you've genuinely been somewhere you could never afford to visit.''
The virtual reality experiences offered at distinct Marriott properties were part of the chain's 'Travel Brilliantly' campaign erected in 2013, after setting sights on the future with Millennials as key spenders in the tourism industry: the 'Next Generation travel consumers'. Since the acquisition of Starwood Hotels and Resorts, the industry giant has been reinventing itself as an agile, connected brand to meet the needs of today's and tomorrow's traveler who ''blend work and play, demand style and substance, and require technology.''
What's so unique about Millennials?
Millennials described as a generation of 'impatient', 'experiential learners' and digital natives are on an endless quest for out of the ordinary experiences. According to the ADI US Working Millennial Survey "70% of millennials would rather spend money on experiences than things. »
Thus, reaching the millennial travel consumer effectively requires both creativity and innovation to harness the magic of emerging technologies. In recent years, efforts have been deployed both on the side of destination marketing organizations to seek innovative avenues to enhance discoverability of locations, experiences and products for millennials and on the side of social media platforms, by developing new features responding to the needs of an evolving social consumer base.
They are talkers! Marketing research demonstrates that Millennials consult friends prior to making a large purchase. Millennials are highly social and prone to sharing their experiences on the internet, using social networks such as Instagram, Tik Tok and Twitter to broadcast their experiences in real-time. Virality of content means that destination marketing organizations have the ability to reach a massive audience – provided that the content is high-quality and shareable. By positioning oneself as tech savvy, personable and engaging – interactive campaigns enhance the brand image.
Emerging technologies: Big investment, bigger return
According to Kapost, interactive content generates twice the amount of conversion than standard passive content. Today's consumer values responsiveness. In this tech savy, voice assisted world, consumers are increasingly attracted to content that is engaging and interactive marketing promotes a two-way conversation between consumer and brand. Interactive marketing is reported to draw and retain more attention than standard content marketing.
Microsites with Macro Impact
Microsites exist as a sub-website of a brand or company drawing attention to a specific cause, event or campaign.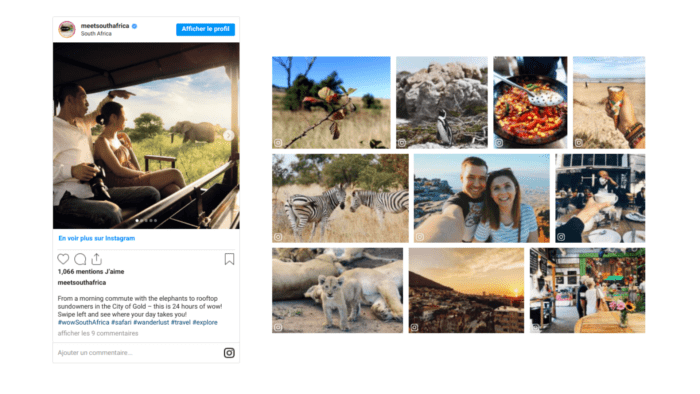 In order to enhance the brand image of South Africa, as a one-stop location, South African Tourism agency regrouped the thousands of readily available images depicting the country's tourist-friendly appeal: landscapes, nature, historic sites, wildlife, cultural hubs in order to launch the 24 Hours of Wow microsite. In a nutshell, the 24 Hours of Wow experience begins with a clock, then video content will parade across the screen, and every 6 seconds, the clock will move forward by one hour and display a new scene, showing South Africa through a different pair of lenses.
"The overall idea was that you could experience your own 24 hours in South Africa, with individual 6-second clips that you can choose depending on what your preferences were."

UGC is key!

The campaign's hook is the site's feature which encourages users to build their own 24 hours of Wow in South Africa experience by selecting different clips of scenes (locations, restaurants, wilderness, beaches, café, city center) and mashing them together to create a customized experience. To retrieve the footage, the South African Tourism agency collected approximately 60% of the footage by digging through South African Tourism archives, and the remainder of the content was filmed intentionally for the campaign.
78% of Millennials are inclined to engage with a brand if they are invited to interact with it and thus, key in the consumer journey for Millenials are: engagement, interaction and collaboration. They are the 'content creation generation' and offering a platform for creation satisfies the true desire of this cohort to not simply create, edit and publish, but to express themselves. By participating in the creation of a brand or product, Millennials feel empowered in the consumer market and the sense of ownership generated fosters loyalty and trust towards a brand.



The site and video content was viewed over 600,000 times. Site visits were recorded as being between 3 to 10 minutes in length. Users traveled with their eyes as they sifted through 144 clips.
The Secret?
Short & snackable content wins the race. Short form content is incredibly effective in marketing, particularly towards Millennials and Generation Z's whose advertising attention span is on a decline. Vine, Tik Tok, Snapchat, and Instagram reels & stories are By showcasing 24 hours' worth of footage in 2.4 minutes – users are able to take a small sip of South Africa, leaving more room for a true exploration of the country by traveling.
Technically sound and visually appealing, the campaign was effective in its original intention, to educate travelers on the diverse offering of South Africa as a destination and the team planned on integrating both the campaign and the South African Tourism website so that users have an all-in-one experience from inspiration to booking, and beyond!