As we have been publishing for the past 5 blogs, emotions influence consumer behavior and decision making. Brands know that. They are willing to spend money on market research to understand how consumers engage with their brand content.


In this blog, we take a look at 3 companies that are already working on systems that read our feelings and reactions. This includes Affectiva, an emotion measurement technology company, Hotjar, a website visualization software and Magisto, an online video editor that uses artificial intelligence to create engaging content.


1. Affectiva
Founded in Massachusetts, USA in 2009, Affectiva is an emotion technology company grown from MIT Media Labs. Affectiva develops emotion recognition SDKs and APIs that enable developers to add facial expression sensing and analytics to their mobile apps.

One of their products is Affdex for Market Research, an emotion-detection app that measures and reports facial expressions through computer vision captured via a webcam or any video capturing device. The app is designed to test digital contents such as advertising, videos, and TV programs.

To enable the app to measure our emotional expressions, Affectiva continuously feeds its system with examples of facial expressions, in which it learns the key characteristics of each expression and recognizes it over time. With its database of more than 8 million faces analyzed in close to 90 countries, Affdex's emotions-measuring capabilities can achieve up to 90% accuracy, even under challenging conditions such as poor lighting and background noise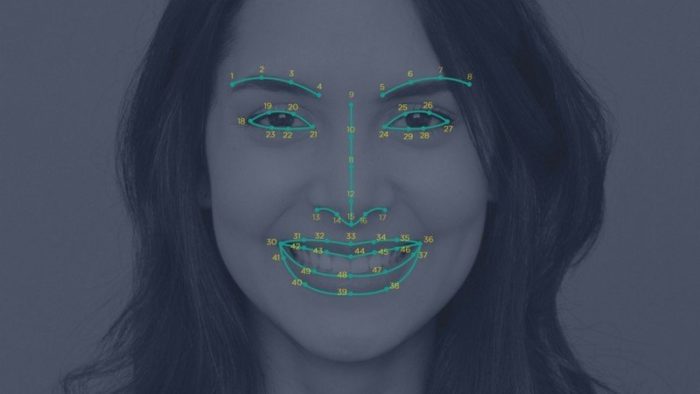 The app must be downloaded by the testers to enable the data to be captured. Once activated, it identifies a human face in real time and interprets the user's emotions behind the facial expressions. By analysing pixels in key landmark corners on the face such as eyebrows, mouth, nose, the software recognizes up to 20 expressions and can assign them to 7 emotions, namely anger, joy, sadness, surprise, contempt, disgust and fear. Once these data are in place, the app starts gathering insights to be displayed in an easy-to-read analytics dashboard. This dashboard allows us several functions such as measuring purchase intent and brand lift, displaying emotion metrics moment by moment in sync with ad, displaying multiple metrics at the same time, comparing metrics by different demographics, bookmarking the interesting results to share with clients and key stakeholders, as well as breaking down reactions to survey questions by frequency or brand usage.
Notable clients: Mars Inc.
Mars Inc. wanted to understand whether the intended consumer emotion is evoked with their advertising message and whether this emotional response could predict sales. Over 1,500 participants from UK, US, France and Germany were activated to view 200 ads, with their facial expressions recorded and analysed. With this single-source data, these emotional responses were attributed to the sales of each of Mars' product line: chocolate, gum, pet care and instant foods.

The results was a prediction of short-term sales with an accuracy of 75%. At the same time, using the analytics, Mars gained insights on which product line elicited the highest emotional engagement and which markets engaged the most. They found that chocolate evoked the highest emotions while food ads showed the least engagements, and that the US market was more expressive than the UK market.


2. Hotjar
Hotjar is a website visualization software founded in Malta in 2014 that lets us gain insights from a variety of analytical functions such as heatmaps, visitor recordings, conversion funnel reports and feedback surveys.

Heatmaps
Heatmaps are visual and powerful tools used to give us insights into user behavior such as the areas of your page that are frequently visited and the areas which are not, where user are hovering, clicking, interacting on the site, and more.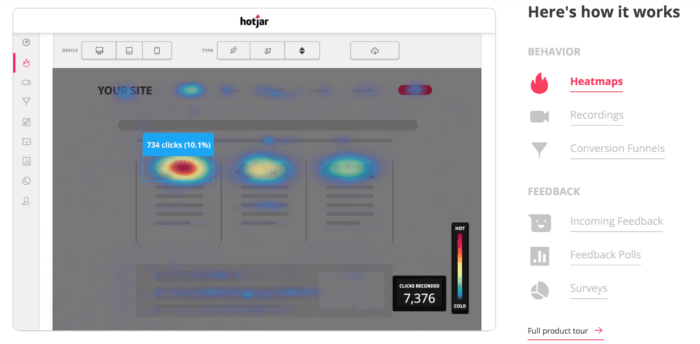 Hotjar can generate heatmaps for any page on your site, even password protected pages and dynamic pages, by capturing the HTML a visitor loads that is sent to the servers and a device specific screenshot of that page is taken. Hotjar then creates an 'element map' from elements on your page, mapped by their tag, parent elements, IDs or classes, if available, which will later be used to build the Heatmap reports. Once user interactions such as a click, tap or move are recorded, Hotjar compares these with the element map and creates a heatmap report if a match is ascertained.
Visitor Recordings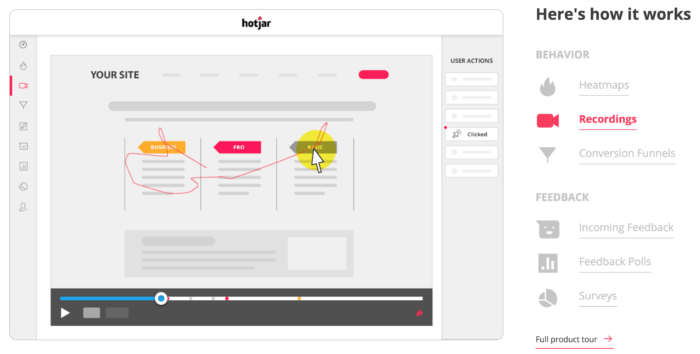 Visitor recordings differ from heatmaps in that they give actual information on users' true experience on your site. Watch recordings of real users visiting the site, filter by pages visited, time on site, device and browser type, date, time etc. These are important insights as it allows us to analyse how certain types of users are interacting with specific pages. You can then use these insights to identify friction points to provide an optimised user experience.
To actively enable recordings, Hotjar tracks interactions such mouse clicks, mouse movements and scroll movements, to be saved in a cloud date base with a timestamp to be used for playback sessions. Hotjar's tracking code uses first-party cookies to track users visiting different pages, allowing you to replay the entire session in one recording.
Conversion Funnel Reports and Feedback Surveys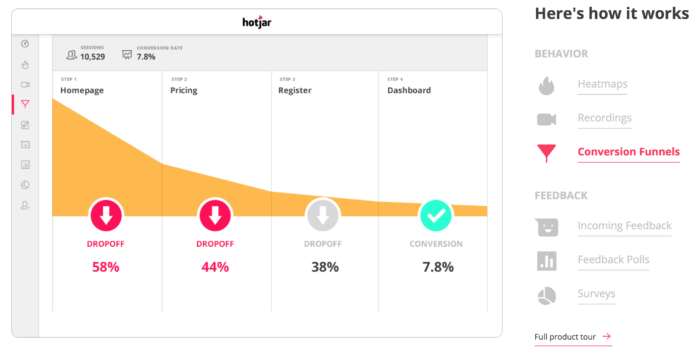 Considered advanced features within Hotjar, these tools are activated to understand if users are finding what they need on the site, what they like and dislike about the pages, where and how conversion occurs during the visits, and more. By asking them directly through feedback polls and surveys, you can get honest feedback from your users through their own words.

Notable clients: Hubspot Academy
A global leader in digital marketing and sales education since 2012, with about 10,000 users sign up every month, Hubspot aims to transform how people and companies grow by offering online training fit for the digital age.
Using Hotjar's form analysis feature, Hubspot was able to understand why visitors stopped at the course registration page, and how the team could act on the feedback to make user-driven decisions for winning page redesigns, resulting in a 10% increase in the signups.

3. Magisto
Founded in 2011 in Mountain View, California, Magisto was named the 7th fastest growing companies in EMEA in 2016. As an online video editor that creates automated video editing and production for individuals and businesses, what is so special about this player is that it uses Artificial Intelligence to make video production intuitive, fast and simple. This allows you to gain insights into an audience's viewing behavior such as where and why viewers stop watching your videos and which content moves them to meet your objectives.

Available as a web enabled editor as well as a mobile app, you can basically upload your video footages or photos, choose an editing style such as fun, romantic, relaxed, and select your music. With a patent-pending image analysis technology that analyses and recognizes faces, landscapes, movements, speech and other interesting contents, the machine learning software is able to choose the corresponding actions such as storyline, special effects, transitions and camera movements. These scenes are then edited and weaved into a share-worthy video that enables awareness and engagement. Once the video is created, you will receive a notification and an embedded code for Youtube. By the way, Magisto offers free-to-use images and royalty-free music too.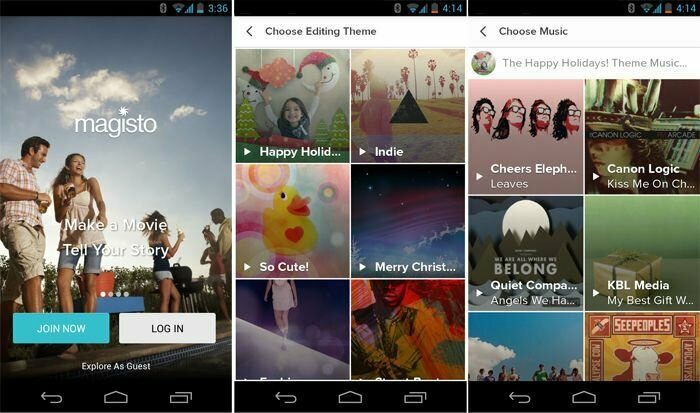 Notable Clients: The Casino Ballroom at Hampton Beach
The Casino Ballroom is a 2,500 seat concert venue that offers audiences live performances in an intimate setting. They wanted to integrate video marketing to increase concert ticket sales and engagement, but were apprehensive about the time and effort needed to produce a well-made video. Using Magisto, they were able to create 6 videos within 48 hrs and took just a total of 2 weeks from brief to publication. By A/B testing the Magisto created video ad against a traditional image-based ad in Facebook, they were able to see a CTR of 252% increase using a video format. Not only that, this new strategy gained a 300% increase in ticket sales for the establishment.

Conclusion
As technology moves forward, as the internet becomes irreplaceable, as business needs evolve, how can marketing keep up to reach their prospective targets and to attain new goals? By tapping on AI-powered softwares, we allow for improved marketing capabilities which in turn translated into key business advantages such as:

Improved sales by optimising key consumer touchpoints
Increased insights such as what works and what does not
Reduced time to market by using fast, simple and intuitive technology
I used to think of artificial intelligence as a theme for sci-fi movies, but what we commonly see on screen is now happening in real life. As AI gets better at predicting and recognizing our emotions, what will happen 10 to 20 years from now? We'll discuss this in our next blog, until then, keep smiling, your friendly AI tool may be recording!

Resource