*Please Note: as of today, my topic has officially changed from Travel marketing to Social Impact Marketing, with the permission of Céline Gaude.
While some brands pull away from crisis, others run towards it.
To survive as a brand today is to be a responsible corporate citizen and therefore to align oneself with a mission that promotes the betterment of society. To achieve this, brands deploy social impact marketing campaigns to address a social issue, encourage collective behavioral transformation, and promote internal and external support of a cause. Rather than solely increasing profit for the brand, social impact or "purpose-driven" campaigns aim to change habits or behaviors within a given population.
In 2020, the spending habits of consumers were interrupted by the onset of the COVID-19 pandemic. Instead of the next great vacation or next big sale, global health was catapulted to the forefront of the world's consciousness. The onset of the crisis sent communication specialists to work in a frenzy in order to determine the appropriate brand response to issues associated with COVID-19.
Don't just stay inside: #PLAYFORTHEWORLD
For the better part of the past few decades, Nike has leveraged their business to provide social commentary in real-time. From social injustice to athlete empowerment, the brand has always been at the forefront of social impact marketing. To respond to the crisis, the athletic wear brand targeted leisure and athletic enthusiasts worldwide by initiating the 'Play Inside' and 'Play for the World' movements – encouraging consumers to respect stay-at-home orders via an Instagram post with the following caption: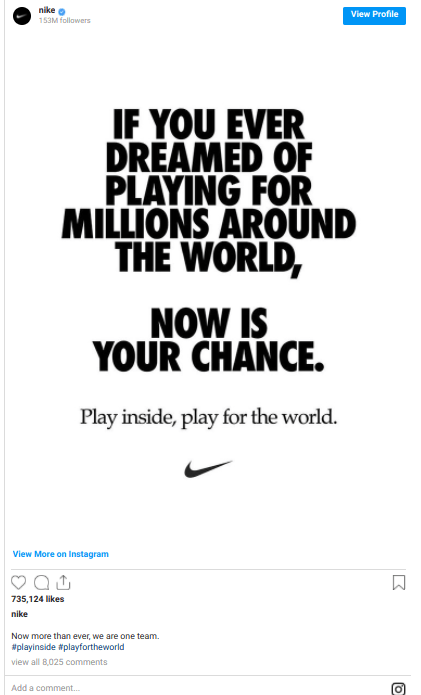 "If you ever dreamed of playing for millions around the world, now is your chance. Play inside, play for the world."
Renowned for being 'a master of emotional branding, typically using the themes of determination, inspiration, and performance to engage consumers', the post was liked over 735,000 times on Instagram'.
NIKE'S BRAND PURPOSE:
Alignment is everything: Nike's Brand Purpose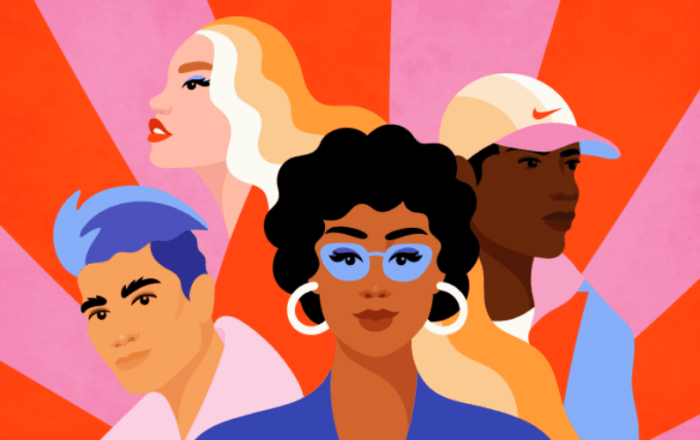 Mission: move the world forward through the power of sport, breaking barriers, and building community.
Pillars: 'People, Planet, Play'
The type of messaging released by Nike throughout the pandemic acutely aligned with the brand persona and sense of purpose. The messaging was non-controversial, emotional, both inclusive, and targeted to fitness and sports enthusiasts of all sizes: from neighborhood joggers to high-powered athletes Lebron James and Cristiano Ronaldo featured in the campaigns.
NIKE did not stop there. Financial donations to fight COVID-19 were announced, including a 17 million dollar pledge and over 30,000 pairs of sneakers were donated to frontline workers in need, across the world. Nike not only knows how to talk the talk, but they are actively walking the walk.
How to end a #ToiletPaperEmergency? #SHAREASQUARE!
Among the first consumer responses to last year's stay-at-home order was panic buying: the exaggerated purchasing and hoarding of food and necessities during a crisis. The boost in sales of household, food, and health products in March 2020 fueled by anxiety and fear, demonstrated increasing concerns about supply scarcity. Social media heightened the collective anxiety; images of mass purchases of toilet paper and hand sanitizer circulated on networking platforms like Whatsapp, Twitter, and Instagram where hashtags like #ToiletPaperEmergency gained significant traction.

Enter, Cottonelle.




Consumers hoarding their favorite brands of toilet paper at a critical time for manufacturers (creating a surplus in demand) meant that the trend of panic buying is of concern for hygiene and personal care brands.

The Kimberly-Clark brand "Cottonelle" deployed the #ShareASquare campaign to elicit behavioral changes in American consumers in the wake of the crisis.

"We understood the additional stress on people to locate Cottonelle products in stores and online. While we were working tirelessly to address the increased demand, we noticed people reaching out to share our products with those in need in their own communities and wanted to celebrate those acts of kindness."

– Ada Zavala, Senior Brand Manager for Cottonelle

3 main objectives are observed in the brand's social campaign.

Reassure
Addressing the myth of scarcity to customers and reassuring them that the stock will not diminish during the crisis.

Promote good behaviour
The brand decided to rewards acts of kindness by donating $1 towards NGOs fighting COVID for each post that features the hashtag #ShareASquare on social media platforms Facebook and Instagram. To increase visibility, a 30-second television commercial was deployed in which consumers were encouraged to spread love and generosity: « Instead of stockpiling toilet paper, let's stock up on generosity ». At a critical moment in the pandemic, Cottonnelle made use of emotional branding to

Support
The brand pledged $1,000,000 and 1 million roll donations to non-profit organizations at the frontline of the crisis.

From March 26th to June 1st, over 6,000 people engaged with the post on social media, and over $1.3 million was donated to COVID relief efforts. Most importantly, the brand saw a 24% increase in Instagram followers and a 35% increase in traffic to the official « cottonelle.com » website.





While some brands pull away from trouble, others run towards it. In times riddled with uncertainty, brands like NIKE and Cottonelle emerged victorious by meeting the moment realistically, authentically, and meaningfully. Assessing the needs of panicked consumers, reassuring them of the stillness of the brand in the midst of crisis, and demonstrating responsible engagement with vulnerable populations affected by the pandemic.

Sources:
https://www.marketingdive.com/news/cottonelle-urges-people-to-stop-stockpiling-toilet-paper-with-social-campai/575076/
https://www.ama.org/marketing-news/cottonelle-helps-consumers-roll-with-covid-19-challenges/
https://www.gartner.com/en/marketing/insights/daily-insights/shareasquare-with-cottonelle
Marketing meets Mission
https://adage.com/article/advertising/nike-encourages-people-play-inside-play-world/2245606
https://econsultancy.com/how-nike-is-striking-the-right-tone-with-its-response-to-covid-19/
https://engageforgood.com/halo-award/share-a-square/