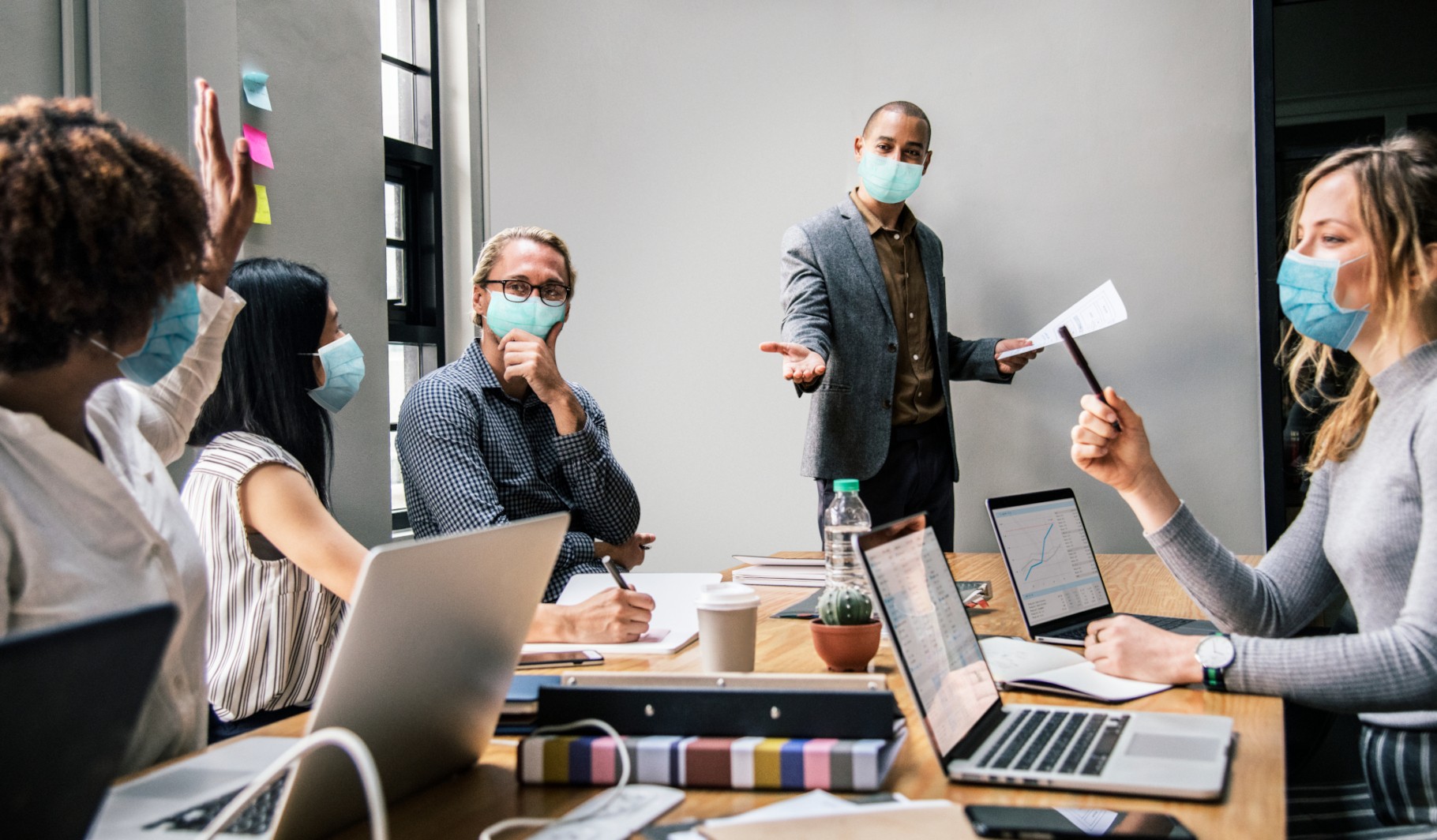 B2B Marketing is still alive, thriving, and is today more digital than it had ever been. A type of marketing historically related to more traditional marketing mix practices — events, print, sales, and more, has found itself convulsed by the effects of the COVID-19 crises.
In this article, we talk about how COVID-19 affected B2B Marketing. We explain how the situation prompted a change in B2B buyer's behavior and how marketers adapted to the changes. We have collected the latest (January 2021) insights and data to explain the new buyer behavior and how likely these changes persist. We also looked into which B2B Digital Marketing trends surfaced during the crises. What did COVID-19 mean for the future of B2B digital marketing? Did it significantly affect the traditional journey? Will these changes stay overtime, or will they fade away? Keep reading to find out.
The new B2B Customer Journey
The B2B customer journey is different from the B2C. In 2019, Gartner(1) reported that 77% of B2B customers describe their purchase as « very complex » or « difficult. » Compared to B2C, the average buying group for a complex B2B solution involves 6 to 10 decision-makers, and 74.6% of B2B sales to new customers take at least four months to close. The B2B decision process's complexity and the negotiation's length make its customer journey particularly hard.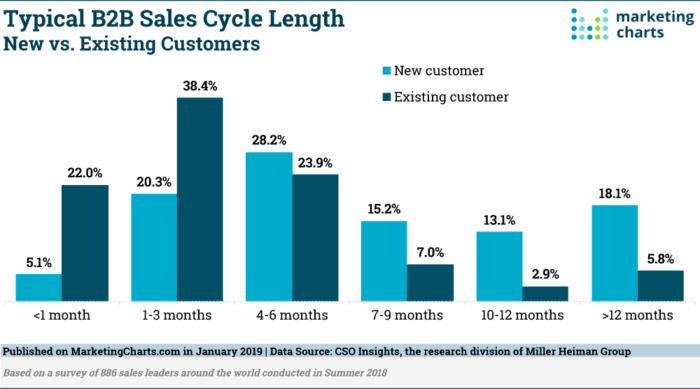 The COVID'19 pandemic did not soothe the complexity of the buying process. The buyers still had to go through problem identification, solution exploration, requirements building, supplier selection, validation, and consensus creation. B2B companies still had to operate their conversion funnel to facilitate conversion to drive awareness, and leads. And they had to do all that while navigating the significant changes and disruptions that COVID-19 generated in their business operations. These disruptions and changes have transformed how B2B buyers search for information, evaluate providers, and purchase — and maybe transformed B2B marketing forever. Below you can find the most significant B2B customer journey changes we found during the research.
B2B buyers have gone digital, self-service, and they expect companies to comply with their expectations.
Digital B2B Marketing: a growing trend in 2018, a reality in 2021
In 2018, Steve Murphy — Director of Mercator Advisory Group's Commercial and Enterprise Payments Service(2) described two emerging trends in the B2B Marketplaces Report. First, how the B2B had been transitioning into digital methods, and secondly, in what way the B2B digital buyer was slowly dominating the market. « The market for true buyer-facing web and mobile-based B2B e-commerce is smaller [than B2C], but is growing rapidly and seemingly headed toward an eventual marketplace-dominated distribution model. […] So disruption is certainly underway in the traditional distribution of B2B commerce as it transitions to digital methods over the next ten years.« 
Fast forward in 2020, Murphy wrote, "Mercator Advisory Group covered this eventuality in a member report as far back as late 2018, when the move towards consumer experiences for B2B e-commerce was already underway. Now it is being accelerated by COVID." (3)
In 2021, what was predicted to happen in ten years' time has been accelerated by COVID-19. The remaining question is: are B2B marketers and companies ready to accept these challenges?
B2B Buyers prefer digital over face-to-face
Based on Mckinsey COVID-19 B2B Decision-Makers Pulse (2020) Survey's results (4), 7 in 10 buyers and sellers say that they prefer digital self-serve and remote human engagement over face-to-face interactions when identifying and evaluating new suppliers. And, 8 in 10 prefer digital self-serve and remote human interaction for ordering and reordering. When asked for the reasons, most of the respondents pointed at three factors:
Freedom for scheduling meetings. Tools like Calendly, Doodle or Hubspot, have made scheduling an appointment with a sales representative easier than ever. If a prospect wants to get information about a solution, it is sufficient to schedule a meeting online. There is no need to call or even send an email, making the digital marketing efforts to transfer the lead to sales almost frictionless.
Cost of travel expenses: traveling to a meeting was usually requiring time and resources. With the new video and live chat technologies these expenses have been significantly reduced.
Safety, perhaps the most apparent, digital transactions versus face-to-face offer protection against the virus.
The digital has provided an effortless, inexpensive, and safe way to do business.
Video and online search have become more important: what before was accessory, today is a must
The consumption of informative digital content has significantly grown due to COVID-19. More than 50% of the B2B buyers admit having increased search engines' use to find and explore solutions. The percentage of buyers using video is even higher; 64% admit watching online videos to find information and explore solutions.(5)
Despite the relevance of user-friendly digital content, for a smooth and positive user experience, Google 2020 found that « more than 33% of buyers (B2B) were dissatisfied with the website experience in the past 30 days, and about 25% said their experience with mobile was below expectations. » (5)
The negative sentiment is even higher among millennials. « The level of dissatisfaction is even higher among millennials, who are increasingly key stakeholders in business purchase decisions. »(5) Although this cohort does not represent a substantial percentage of the prospects, in the future, they will be influential B2B decision-makers, and therefore, B2B marketers should not neglect them.
The new Digital B2B buyer is willing to spend more online
Contrary to the generally accepted statement that B2B transactions are signed behind closed doors. The new B2B buyer has shown eagerness to spend large amounts using remote or self-service methods. « Notably, 70% of B2B decision makers say they are open to making new, fully self-serve or remote purchases in excess of $50,000, and 27 percent would spend more than $500,000. » (4) Not only for new purchases but also for reordering. Clients are more likely to reorder remotely or through digital self-service than in-person.
This data suggests that the new B2B buyer wants the possibility of reaching the end of the funnel with only digital interactions. Whether B2B marketers have enabled or not an end-to-end digital marketing funnel will presumably affect the leads generated' conversion rate.
These changes are likely to be permanent
Some may think that these changes are temporary and that digital means cannot replace human interactions' advantages. However, this survey points to the contrary. « According to survey respondents, these pandemic-induced patterns are likely to become permanent. Close to 90% decision-makers say that new commercial and go-to-market sales practices (from traditional to digital) will be a fixture throughout 2021 and possibly beyond. » (4)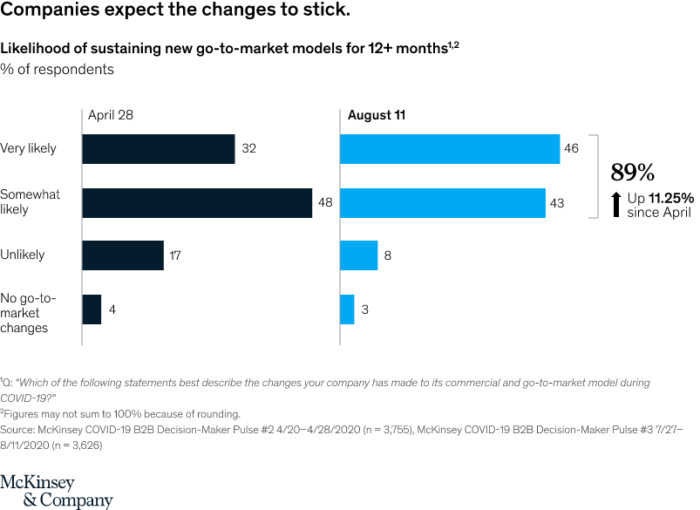 In conclusion, a trend in 2018 is, in 2021, a reality speeded by COVID. B2B buyers prefer digital over face-to-face engagement with the brand. While digital channels were accessory before, today these are crucial. In the future, buyers might be more likely to buy from companies that offer fully digital and frictionless transactions all along the funnel.
Although, we have explained the process as though it started from the buyer's perspective. The reality is probably the result of an iterative process between marketers, sellers, and buyers trying to adapt in a dynamic environment that demanded resourcefulness and creativity to attain results, despite the uncertain situation. The COVID-19 shaped the way buyers behave inside the funnel, and irremediably affected B2B channels and strategies. In the next section, we dig into the consequences of COVID-19 on B2B Marketing.
The new B2B Marketing
B2B marketers have to do more with less
The pandemic severely damaged business results. In the survey B2B marketers response to COVID-19 by Snowflake and B2B Marketing(6), the 46% of surveyed professionals said "there has been, or will be, a significant and/or rapide downturn in revenue," when 37% were "still monitoring" at the time of the study.
As we know, marketing and communication budgets are often the first trimmed in times of crisis. Is COVID-19 an exception? It seems that it is not. The study respondents are mostly senior level, located in different countries, and representative enough of the global B2B marketing cohort. What was their answer? 40% of them said their marketing budget "has been reduced," 18% "frozen" and 15% didn't know yet. Finally, only 24% kept their budget.
However, even with potentially reduced resources, B2B marketers will have to play a crucial role in the new normal. They were already on the front line from day one. At the question "At a corporate executive management level, to what extent has marketing been part of the organisation's strategic response to the crisis?" 83% said they had been involved meaningfully.
Offline channels can no longer be activated
Although digitalization is going faster and faster, it is good to remember the preferred channels a few years ago in B2B marketing in terms of budget allocation. In Mercator, 11th edition (7), authors identified the following: fairs and exhibitions, advertising (print), online communication and social networks, direct marketing, professional publishing.
With COVID-19, most of the offline channels can no longer be activated. The key topic was events. Live events were to be an essential part of B2B marketing campaigns planned for 2020. A study that questioned 456 B2B marketers revealed that ⅔ of them designed to spend at least 20% of their 2020 budget on live events, 43% even planned to pay 30% or more(8).
How did B2B Digital Marketers adapted
First — and given confinement, curfews, and other restrictions imposed in many countries, B2B marketers had to switch to 100% digital plans and tactics. They notably had to decide what to do with their live event budget. In March 2020, 39% planned to reallocate, when 40% planned not to spend that money. Those of the first group intended mostly to reallocate into content creation (43%), webinars and other hosted online events (40%), search advertising (33%), and social media ads (27%)(8). Secondly, 65% of B2B marketers changed their messaging(6). Thirdly, 39% of them launched new products/services offerings(6).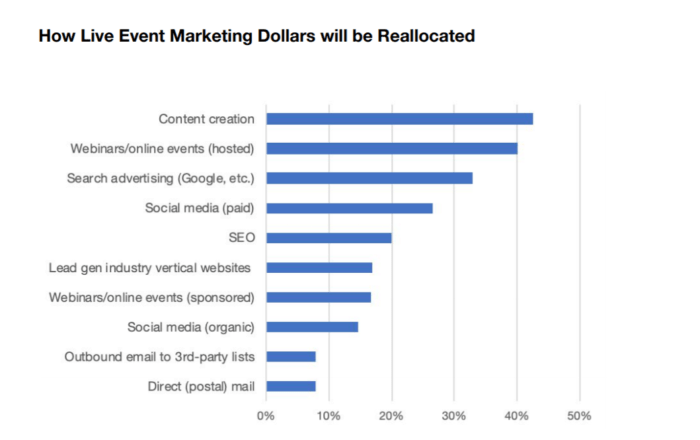 First learnings from covid-19 crisis
COVID-19 has been an enormous shock, and a quick response was necessary. Now that B2B marketers will be used to the new normal, what lessons have they learned, and what trends have they identified for the future? The webinar "Marketing B2B : ce qui change, ce qui ne change pas et ce qui doit changer dans le marketing aujourd'hui", from B2B Summit (9), and the article "B2B Marketing Trends In Post Covid-19 Era", from UnboundB2B (10), give us exciting experts' points of view. Here are some of the key insights:
Companies have to understand the new customer's needs, psychology, behaviors.
B2B marketers need to focus less on lead generation and more on empathy, relationship, customer experience, emotions, and authenticity.
Experimentation, test and learn, iteration will be keys to emerge in the new context.
B2B Marketers need more coherence in their messages, marketing plans, and actions and align with the company objectives.
Due to the explosion of content, companies need to produce qualitative, valuable, multi-format, creative content to emerge from the mass.
Compared with live events, webinars still lack proximity and engagement. Companies need to rethink formats to offer more interactive and creative online events.
Tactics B2B marketers can leverage to survive in the COVID-19 era
In our COVID-19 period, B2B marketers can work on many online channels and tactics to drive awareness, leads, sales, and loyalty. Below is an overview of the possibilities, grouped into five categories.
1- Online Events
Online events are not limited to webinars, but can also take other forms, such as online trade shows. They offer many possibilities in terms of formats, environments (for example: hosted or not), or even post-campaign valorization as digital assets. How to promote their online events is also a key challenge for B2B marketers.
2- Webmarketing
Companies can use their websites to bring value to their visitors and to valorize their brand/products. How? By providing informative content to their clients and visitors, reassuring them with customer testimonials, offering qualitative and personalized experiences, and providing valuable features such as chatbots or simulators. Search Engine Optimization (SEO) and mobile experience optimization are also two important topics.
3- Content Marketing
Content marketing is a great way to attract visitors, create interest for your solutions and generate leads by creating branded content. To succeed, B2B marketers can work on formats, find their unique tone, experiment with different ways to promote their content. B2B Marketers can also think about ways to drive engagement and conversion.
4- Email marketing
Emailing is an advantageous channel to keep in touch with your customers, offering them useful informational and promotional content. Today there are many possibilities to automate and personalize your emailing campaigns and improve your results.
5- Online advertising
Advertising is also a critical tactic that B2B marketers should consider to increase awareness and website traffic. B2B marketing can advertise on search engines, social media, and general or specialized media websites.
Covid-19 has strongly impacted current business environments. In this article, we reviewed the consequences of the COVID-19 crisis on the B2B customer buying journey and B2B marketers' tactics and plans. In upcoming articles, we will explore the different tactics to help you identify the opportunities offered by the new trends in B2B digital marketing.
References:
1 https://www.gartner.com/en/sales/insights/b2b-buying-journey
2 https://www.mercatoradvisorygroup.com/Reports/B2B-Marketplaces–Disruption-Presents-Opportunity/
3 https://www.paymentsjournal.com/new-data-from-google-reveals-how-b2b-buyers-responded-to-th-pandemic/
4 https://www.mckinsey.com/business-functions/marketing-and-sales/our-insights/these-eight-charts-show-how-covid-19-has-changed-b2b-sales-forever#
5 https://www.mediapost.com/publications/article/355690/google-shares-exclusive-data-on-how-b2b-buyers-cha.html
6 https://www.b2bmarketing.net/en-gb/free-downloadable-guides/great-disruptor-b2b-marketers-response-covid-19
7 Mercator, 11th edition (2014)
8 https://www.b2bmarketingzone.com/taurus/media/b2b-marketing/whitepapers/How%20COVID-19%20is%20Impacting%20B2B%20Marketing%20FINAL.pdf
9 https://www.btob-summit.com/programme
10 https://www.unboundb2b.com/blog/marketing/b2b-marketing-trends-in-post-covid-19-era-expert-insights/