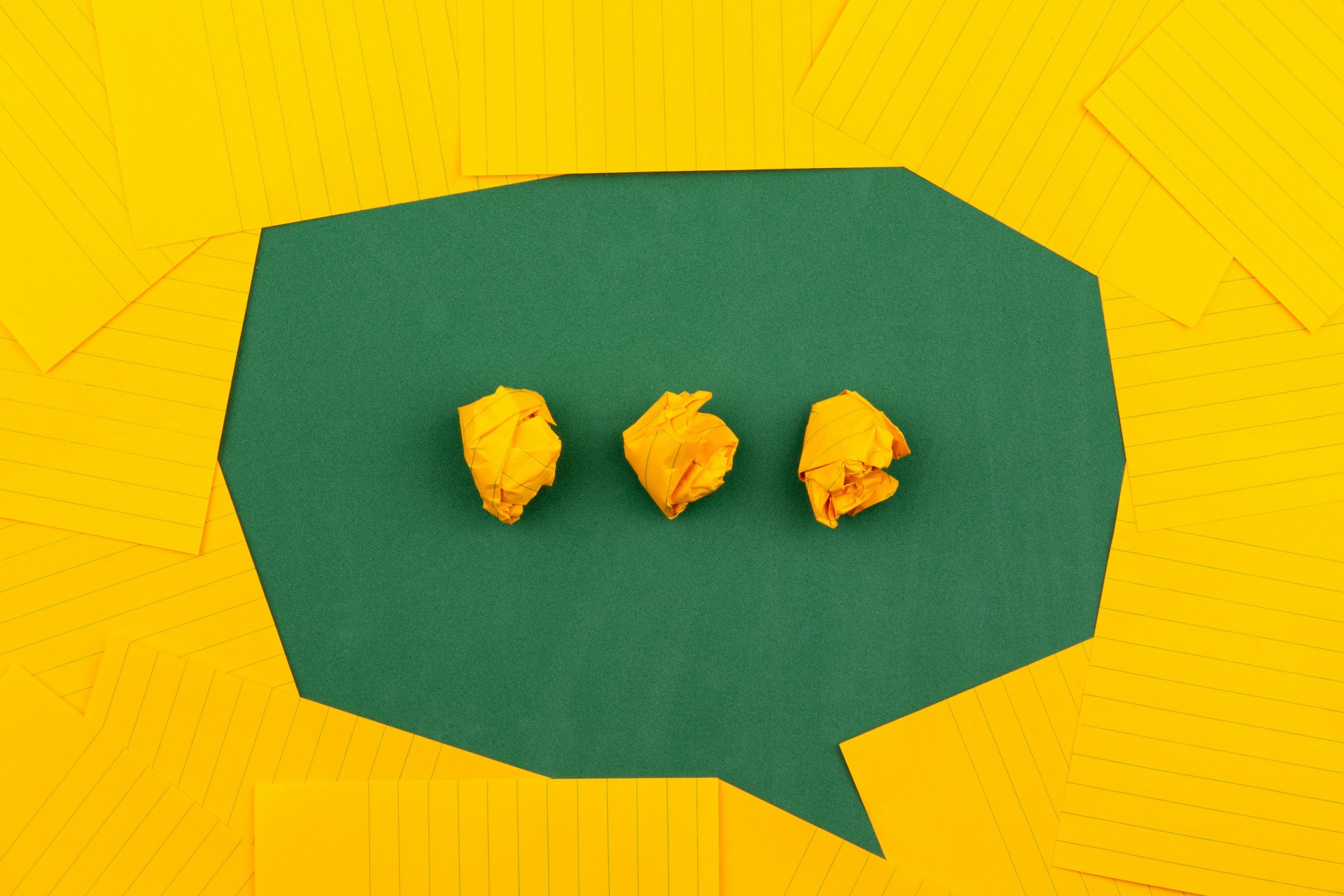 Have you ever thought about how quick some of the business pages on social media respond? As if they already know what you are thinking. How about instantly providing you with suitable options as you chat? Or probably, leading you to the best solutions regarding your queries.
Fast response rate. Accurate solutions. Reliable options. Well, do not be surprised, the reason behind that is the automation process that Chatbot provides.
As the current crisis urges innovation, it is no surprise that technology has become a determining factor for all industries to continually survive and thrive. Different tools and automation have already been launched to improve various organizations. 24% of large companies, 15% of mid-sized companies, and 16% of small businesses now use chatbots. (Spiceworks, 2018)
The chatbot market value was at $17.17 billion in 2020. This is expected to grow to a whopping $102.29 billion by 2026 (Research and Markets, 2021)
It works for you when you're sleeping, having a meeting, eating dinner with your spouse, playing with your kids, or even when you're taking an extended vacation within an isolated island with no electricity or Wi-Fi.
In this article, we review and compare how the different CRM solutions are using chatbots as a marketing tool on their website. To give you a further idea of what Chatbot really is, what are its benefits continue reading this article.
1- A short introduction to chatbots
What is a chatbot ?
A chatbot is a computer program that communicates with people in a conversational way, by giving automatic answers, without human intervention. Chatbots can be used on various channels: websites, mobile applications, social networks / messaging services (Facebook, Twitter, WhatsApps …) and more (SMS, etc.).
There are many solutions to easily create chatbots. You don't need to be an expert or a developer to get started. Nor do you need to have a huge budget to build a simple and operational chatbot.
The advent of voice assistants also opens new perspectives for chatbots: voicebots (and its variations such as the callbots). Still few in number – we know mostly Siri, Amazon Alexa, Google Assistant, Cortana – it could well develop in the future.
Main types of chatbots
We can distinguish two main categories of chatbots :
Rule-based chatbots are the most common. They rely on pre-set rules, keywords recognition, and decision trees to qualify user needs and provide the appropriate response. With their ability to understand and answer simple questions quickly, they act as a kind of enhanced FAQ.
AI chatbots followed the rise of artificial intelligence. They are able to understand languages and intentions, using algorithms to process natural languages. They are also called NLP (Natural language processing) chatbots. With their ability to understand more complex questions, they can be used as virtual assistants.
So, which type of chatbot should you choose? Here's a comparison chart to help you:
| | | |
| --- | --- | --- |
| | Rule-based chatbots | AI chatbots |
| Easy to set up | + | – |
| Affordable | + | – |
| Understanding of the questions | – | + |
| Performing tasks for customer | – | + |
2- The main benefits of adopting a chatbot
Improve your customer experience
The 2018 State of Chatbots reports gives us an overview of the main benefits expected by the customers themselves.

https://www.intercom.com/blog/the-state-of-chatbots/
Using a chatbot allows you to be available for your customers when they need it, rather than when your teams are available. It allows you to provide an immediate response to all simple questions.
Strengthen your conversion funnel
Interactions with users allow you to learn more about their progress through the buying process. This is especially interesting considering that you can record this valuable data and use it later (with your chatbot or otherwise).
Well programmed and designed, a chatbot can help you work on your conversion funnel. They are indeed very useful to guide visitors on your website, distribute content adapted to their needs, and generate leads. Here are some ideas you could use for each step of the funnel :
Awareness: give them educational content (articles, videos, whitepapers, infographics, analyst reports).
Interest: present your solutions and services by directing them to your customer testimonial pages or your solution briefs. Invite them to subscribe to your newsletter.
Consideration: invite them to chat with a sales expert, to participate in an upcoming webinar, to learn more about pricing.
Intent: offer them product demonstrations and free trials.
Increase your efficiency and save money
To maximize your results while reducing costs, you must exploit the complementarity between humans and chatbots. According to customers, here are the comparative advantages of each:

https://www.intercom.com/blog/the-state-of-chatbots/
Chatbots can transfer a customer request to a live person if the question or need becomes too complex. By making the most of this complementary, you will be able to save on your staff costs, while efficiently dealing with all the questions, from the simplest to the most complex, of your visitors, prospects and customers.
3- Eight examples of CRM companies using a chatbot in their marketing strategy
Little that you know, Chatbot had started a long time ago. So long that some of you might probably haven't been born yet.
In 1966, Joseph Weizenbaum created the first-ever Chatbot named Eliza. Eliza was designed in a way that it can imitate how humans converse. But it wasn't until 2010, when Apple launched Siri, when the chatbot became popular, paving the pathway for advancing AI's future.
The technology behind a chatbot has grown so much nowadays, and it keeps changing and evolving. It doesn't just perform as a chatting pal but more of a reliable assistant in making your business process more convenient and hassle-free.
Nowadays, the chatbot is not only regarded as a personal assistant, a fancy Facebook solution or a method to manage the massive digital demand generated in B2C businesses. Its use has become so mainstreaming that even B2B buyers expect a chatbot on a B2B vendor's website.
In fact, the latest Orbit Media Studios report on What Do Website Visitors Want? It's Not What B2B Brands Are Giving Them. It shows that, compared to what B2B marketers value the most on a website, the B2B buyers find 200% more important to have a chatbot or a live bot than a B2B marketer does.
To illustrate how some B2B companies are using chatbots on their marketing strategy, we listed the 25 most famous CRM solutions around the world (see table below). Visited their English (US) website, and noted which ones are using a chatbot and how.
Website WITH chatbot
Website WITHOUT chatbot
Salesforce
Hubspot
Copper
Sugar
Nimble CRM
Apptivo CRM
Insightly CRM
Xiaoshouyi
Pipedrive
Freshsales
Monday
Zoho CRM
Agile CRM
Nutshell CRM
Airtable
Close CRM
Zendesk Sell
Less Annoying CRM
Sales Creatio
Vtiger
Microsoft Dynamics 365
SAP
Oracle
Pega
CRMNEXT
CRM solutions using a web chatbot as part of their marketing strategy
From the 25 websites, we found out that only 32% (8) displayed a chatbot, and 12% (3) a Live chat instead of chatbot. The 66% of the chatbots in place escalate to human support or sales when requested.
Salesforce, Hubspot, Copper, Sugar, Nimble, Apptivo, Insightly and Xiaoshouyi are the eight CRM solutions who have deployed a chatbot as part of their marketing strategy. In the next section we dig right into Chatbot and B2B Marketing funnel.
Chatbot and B2B Marketing Funnel
We chatted with all these chatbots to see their capabilities, limitations and analyzed which segment of the funnel they are addressing. In the infographic below we created for this article, you can see how the different solutions use the chatbot in the different segments of the funnel.

What we found in common, is that these eight companies use a chatbot on their website for mostly two goals: Educate visitors (Awareness) and generate sales qualified leads (Intent).
Educate visitors
Hubspot chatbot, for example, offers the option of "Get educational content", Nimble CRM "Just browsing" and Apptivo "About Apptivo". These three examples lead the B2B prospect to educational content, in form of a blog, course or specific queries.

Generate SQL's
The intent chatbot is right there to help you go straight to the point. "Talk to Sales", as you can see in Salesforce and Nimble chats, or a bit more indirect "I'd like to request a demo", in the SugarCRM chatbot. Regardless of the way they ask, the goal is the same: collect the visitor information and to transfer the request to the sales team who will be in charge to contact them.

Although, we have only mentioned showcased chatbots for Awareness and Intent, the reality is that you can use the chatbot for every stage of the funnel. If you want to see it for yourself, go on and check their website (EN). But before, read our eight good and poor practices for B2B chabots.
4- Eight good and poor practices for B2B web chatbot
After looking into the different chatbots, we collected four good practices and four poor practices that you should consider if you are thinking of adding a chatbot on your website.
Good chatbot practices in B2B Digital Marketing
Chatbot appears when a visitor has scrolled at least 50% of a page
Consider triggering your chatbot when the visitor has scrolled 50% of the Home page or install the chatbot in certain pages.
There's nothing worse than landing on a page and being immediately disturbed by a pop-up or a chatbot.
They both have shown to be effective marketing tactics, when triggered in the right moment. Allow your visitors to browse your page for a couple of seconds, and then trigger the bot.
Visit NimbleCRM website, the chatbot appears when you have scrolled to a certain level of their landing page.
Your ally to make your solution self-serving.
Salesforce chatbot can guide a prospect during the free trial without having to contact a sales representative. Using a chatbot, Salesforce offers to its prospects the possibility to self-serve its solutions.
Mckinsey COVID-19 B2B Decision-Makers Pulse (2020) Survey's results shown that "Notably, 70% of B2B decision makers say they are open to making new, fully self-serve or remote purchases in excess of $50,000, and 27 percent would spend more than $500,000." We wrote about it in this article: The impact of COVID-19 on B2B marketing: the acceleration of digital marketing.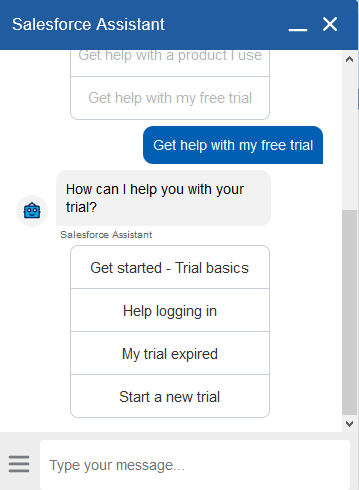 Salesforce chatbot gives the possibility of purchasing its solution without talking to sales thanks to the chatbot. An option that your prospects are demanding more and more.
A chatbot can be more than a chatting bot.
Nowadays the technology has evolved to a point that a well designed chatbot can answer basic questions, escalate queries to support or sales, propose content, collect emails, surveys or automate tasks based on a conversation with a visitor.
If you're considering adding a chatbot on your website, think about all the possibilities that a chatbot can bring.
Set a realistic number of goals for your chatbot, based on your needs, experience and budget. A chatbot can be more than a chatting bot.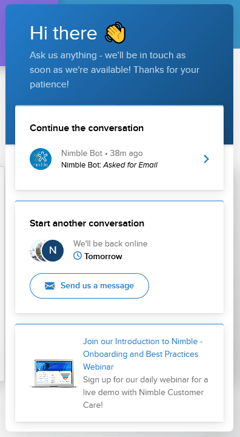 Chatbot for all stages of the funnel
Finally, a chatbot is not a pretty accessory to add to your website, like a carousel of images.
It is a tool for educating visitors, generating leads, helping clients and more. It requires a well thought-through strategy in line with the marketing channel, and a team willing to optimize it.
Before jumping into a chatbot solution, consider which segment of the marketing funnel it will serve to. Thinking ahead will strengthen your overall marketing strategy, and save you some money.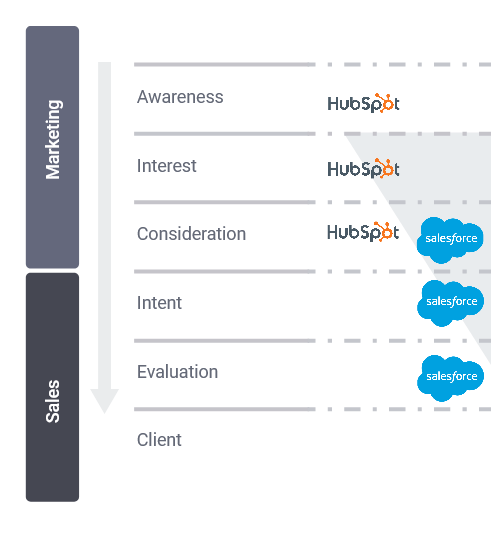 Husbpot and Salesforce chatbot are good examples, see how their chatbots specifically target a segment of the funnel.
Poor Chatbot Practices in B2B Marketing
During the research, we also found poor practices that you should bear in mind while building and installing your chatbot. Here we are showing these poor practices on Cooper's CRM website, but we have seen it in many others.
1. A Rule-based chatbot does not allow the user to easily go back 1st step.
It happened to us while we were testing Insightly's chatbot. At some point, we were not interested in what the chatbot was saying, we wanted to go back to step number one. We couldn't. We had to clean the cookies of our browser to restart the conversation.
A frustrated visitor translated into a negative user experience, and therefore less conversion.
In this case, we recommend either giving the possibility to go back to the first question the chatbot asks, or after a couple of minutes of the user inactive triggering a message, for example, "Is there something else I can do for you?"
2. Ensure chatbot is always available.
It happened to us on Copper CRM website. We closed the chat thinking it would restart the conversation, but instead, it completely disappeared. We had to clear cookies of the browser to see the chatbot again.
If you're investing in a chatbot solution, make sure that it's always available and ready to help your visitors.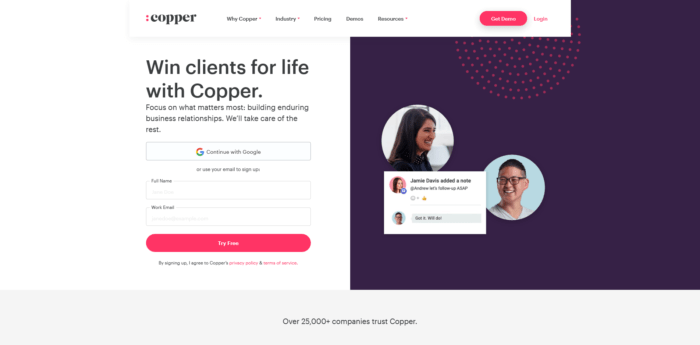 3. The chatbot jumps too fast into asking for personal information.
This happened again with Copper's chatbot. It offers two options: "I'm new and curious about Copper  » and "I'm a current customer".
When you click, "I'm new and curious about Copper  », it triggers a chain of three messages directly asking for the email. We mentioned Copper here, but this happened with many of the other chatbots.
It felt like going to a physical shop telling to the assistant that you're curious about the shop, and getting asked for your email even before giving something valuable in exchange.
That's jumping from Interest to Intent in 0.1 seconds. Your chatbot will look desperate, your brand too.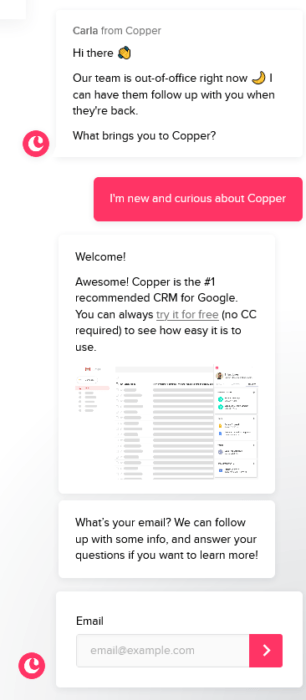 4. Chatbot on mobile: They just don't fit on your screen.
And, if they do fit, the chatbot bubble is so big that covers the right bottom corner of the screen making navigation less user friendly.
If you absolutely need a chatbot on the mobile version on your site, ensure that the chatbot button does not disturb navigation.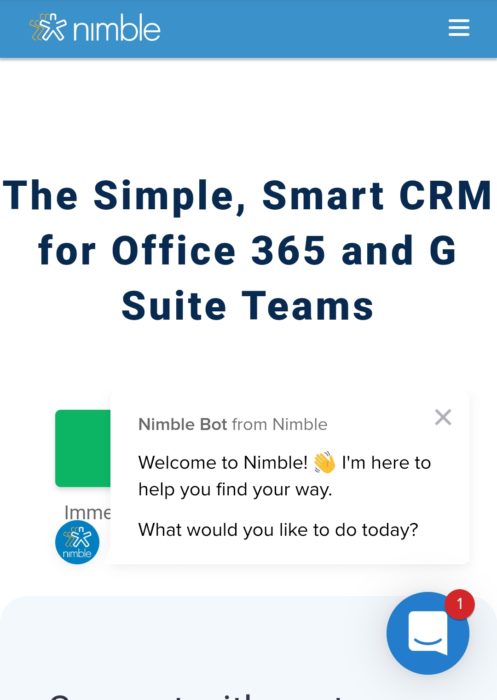 To conclude, take your B2B chatbot seriously, it can be your greatest ally in your Conversational Marketing Strategy. B2B marketers have reported a series of benefits gained in their use of conversational marketing, including the ability to learn more about their buyers and customers (57%), a greater volume of high-quality leads (55%) and greater, more predictable engagement from leads and accounts (40%). If you're going to integrate a chatbot in your strategy, do it well. Your marketing can get some serious benefits from it. Go chatbot!